Your feet no longer have to freeze at home - no matter if it is summer or winter. Even on the coldest winter days, warm your feet with the THERMO SLIPPERS, the world's first cord-free and rechargeable, heated house slippers.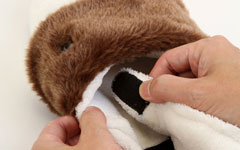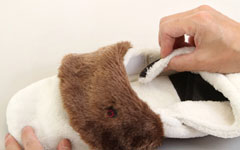 Highly flexible heating elements made of carbon fibre are incorporated in the THERMO SLIPPERS and this keeps your feet cuddly warm. The local warmth leads to alleviation of tension and general relaxation of cramps. Reduction of body temperature and even cold feet causes bladder infections, abdominal disorders, stomach and intestinal disorders, etc. The THERMO SLIPPERS can prevent all this. You can even leave the THERMO SLIPPERS on overnight in bed.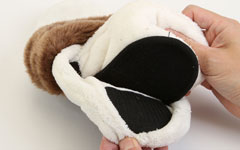 The soles of the THERMO SLIPPERS are flexible and slip-resistant and in addition to the heating comfort, offer the advantage that you can move around securely and safely at home. Slipping on a slippery floor or stairs is definitely a thing of the past.
THERMO SLIPPERS offer optimal wearing comfort and can be used both as open or closed house slippers. The heel is quite simple to insert and is held in place by an ingenious Velcro system. There is an elastic band in the heel area so that the heel part clings close to your heel. You can decide yourself how close you want the heel part to your foot.